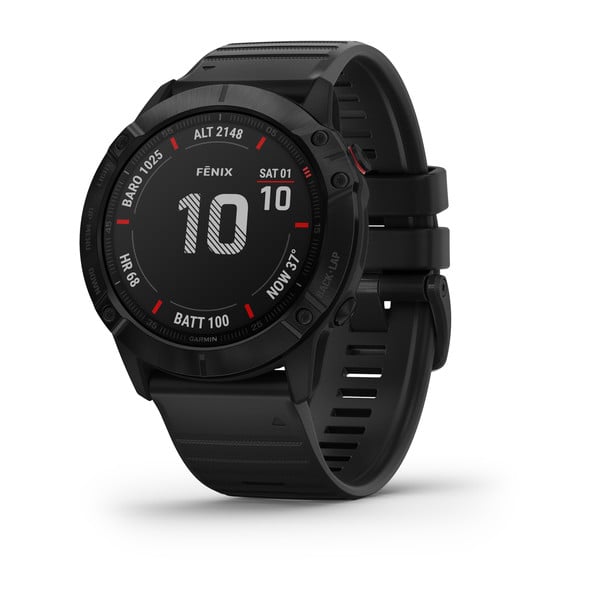 How could it be otherwise, the new Garmin Fenix ​​6X Pro tops the list of the best gym watches. It is a true marvel of sports engineering and technology that results in these fantastic sports and fitness watch . It is worth mentioning that it works for absolutely any sport you can imagine, special mention as one of the best watches for Triathlon.
Going into details would make this shopping guide endless, so we highlight the reasons why it is the top 1.
A watch with extremely long service life, the best materials and the best technology in sport justifies its high price.
Multiple activity profiles already loaded for indoor or outdoor sports.
Animated workouts through cardio, strength, Pilates, yoga exercise animations, or download more from Garmin Connect.
Take your training to a new level with an ultra-precise heart rate sensor, which pairs seamlessly with a pulse oximeter.
For cardio days and getting out of the gym, it has preloaded maps with all the European topography, advanced navigation functions for trail running and other mountain sports.
It incorporates the new contactless payment technology with its Garmin Pay system.
Duration of battery 14 days in normal mode and 72 hours in GPS mode completely.
🥈 2. Suunto 9 Baro Men's Multisport Fitness Watch
In position number two is an ideal watch for more than going to the gym, with the Suunto 9 Baro we have an off-road watch that has more than 80 different sports in its sports profiles, a real pass not only for training within the gym but for any sport whatever.
This watch remains at the gates of the first position, but it is still the second-best option on the list with a much more affordable price.
You should buy this watch if you can afford it if you intend to do a lot of sport, if you need optimal quality materials , a great sports profile with many hours of autonomy .
It goes for everything, much more than for the gym. Among its strengths, it has the Suunto brand experience in terms of the most accurate GPS location technology on the market, with route tracking by coordinate systems, points of interest and breadcrumbs.
In addition, you have at your disposal a barometric altimeter that is perfectly combined with the GPS to give greater precision to the tracking and distance through its FusedAlti technology.
The top three stand out with the powerful Polar Ignite fitness watch that is one of the best activity monitors for any occasion. The quality of the materials in its manufacture is a guarantee of durability added to the positive reviews from customers to trust this gym watching.
What does this fitness watch offer ?
Mainly we have at our disposal a precision wrist heart rate monitor, a perfect heart rate monitor to which is added a good integrated GPS of remarkable precision.
It is fully compatible with Polar Flow, in which any type of sport is recorded, including indoor gym sports such as strength training with weights or cardio. With the FitSpark function, we can have a good daily training plan. On a daily basis, we will have different types of training depending on your level of recovery and disposition.
More Posts;